Preston City Council
design by Nerv

After the development of the task orientated web design with the agency NERV, web labs continued with the transformation of a CMS product into a fully transactional website and citizen portal with dashboard. As more services come online the weblabs bridge has easily handled many 3rd party web services and transformed the user expereince into one seamless design managed from the Web Labs Bridge.
Preston.gov.uk is fully transactional citizen account portal
This was launched as the 'My Preston' single sign in portal by late February 2016. The site is accessible via all devices and customers are able to carry out a range of transactions:
View and pay council tax bills
Check details of housing benefit
Find information on their local area
View, complete and save council forms
View tenant schedules (landlords).
Preston is now considering whether to add a business-specific part to the site or create another mini-portal for business customers.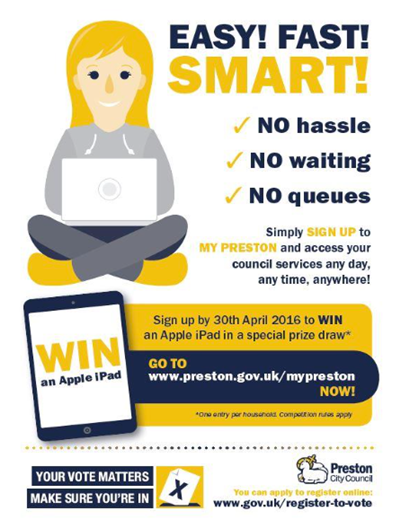 By mid-April 2016 the site had over 1000 active users and by early December some 4000 people had signed up. Around 200 additional users are registering each month. Preston is collecting data on these customers and has deployed Siteimprove's heat mapping tool to investigate customer journeys through the portal and the most popular clicks.
The project team is also keen to add more services and transactions to provide residents with an incentive to sign up to the portal and to drive up usage. Functions under consideration include:
Council tax and housing benefits changes of address and changes of circumstances. These forms were being tested in early December 2016 and will link directly from the portal to the relevant back-office systems.
An integrated benefits calculator and application suite. This is being explored in collaboration with the contact centre, welfare reform and council tax teams in Preston, with the aim of introducing the facility into the portal in early 2017.
Garden waste. Preston has introduced a successful garden waste collection scheme which now has around 18,400 subscribers. The project team would like to integrate the garden waste scheme into the portal, although there is some nervousness within the council about whether this move might deter some subscribers.
Missed bins collections / reporting.
Future improvements to the portal include:
Pre-populating fields within forms using the details that customers have already entered when registering on the portal, thus avoiding laborious re-keying on the customer's part.
Extending or revising the 'Near Me' function on the portal so that people who are not currently resident in the city but who work there or are planning to move into the area can search for local facilities.
Further developing the ability of customers to track the progress of applications or service requests through the portal.
We've got a great product. The important thing now is to make as much use of it as possible

Digital and Web Manager
Tags