Resource Manager is a Bridge application designed to fill a gap in the market between a full blown and highly complex product that handles project management and the spreadsheet method of handling company resources.
Book a demonstration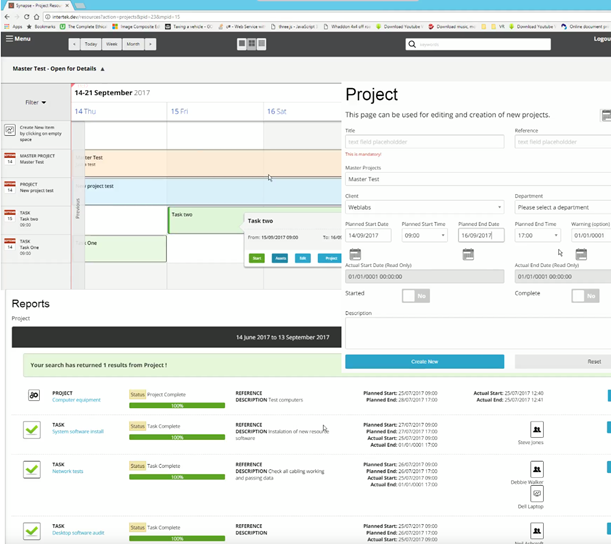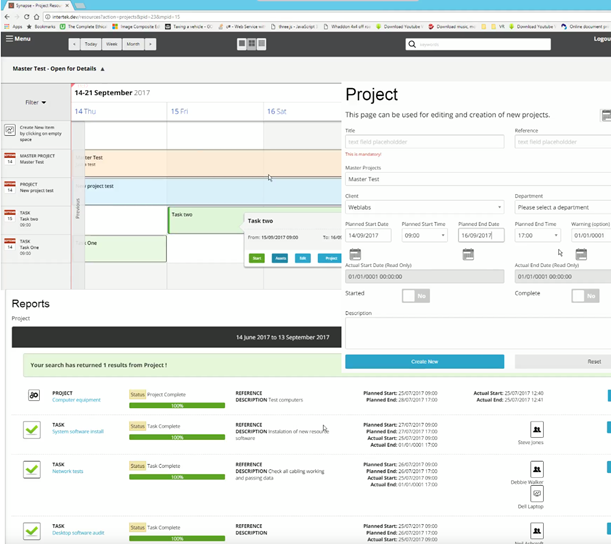 All your clients, projects and resources centralised and on time!
Resource Manager is designed to allow the planning, execution and reporting on projects for various clients by multiple departments/teams. The projects are broken down into various tasks that action this project and can be fixed, mobile or human assets or a mixture or all three or multiple assets together. The interface is designed for ease of use using a calendar timeline based display model.
Resource Manager Features
Collaboration workspace
Getting your tream to work together just got a whole lot easier with Resource Manager. Set up a team with our collaborative workspaces featuring contextualised message, and efficient tasking and time tracking. Resource Manager will help you deliver projects on time and on budget, every time!
Timeline user interface
Your whole team can manage project details in one elegant user interface using a left to right horizontal time line control with a zooming into Day, Week and Month Views. Click and Pin interations make this online project managment tool a pleasure to use, while off canvas palettes save valuable screen estate to you can focus on what's important - your project staff, resources and budget!
Roles
All your team's project collaboration can be stratified with user roles. Set up user accounts for Staff User, Manager and Client users:
Staff User: can view only information that they create or are a resource assigned
Manager: can view and create any data
Client User: can view data only relating to there projects and tasks
Power reports
Various report formats are available to help you analyse projects and clients with a birds eye view or even drill down to an individual resource to see if it is over or under utilised. What's more reports can be outputted for departments from not just 'Completed' projects but at other various stages like 'Active', 'Late' and 'Warning' states.
Structure of resource layout
1. Master Project, Project and Tasks
2. Projects and Tasks
3. Just tasks
Each task can have multiple assets assigned
An asset can be set to require a trained user from a specificaly assigned user group
Assets can have multiple types to allow customisation to suit an organisation and easy selection
Assets have weekly available time settings, so 24 hour for equipment or 8 hours per day for a staff member
No limit to number of assets in the system
Calendar Layout allows zooming into Day, Week or Month view with scroll to move calendar around web viewer.
Search for all assets, tasks and projects in the system
Asset Offline List, Manager view
Asset Utilisation List, Manager view